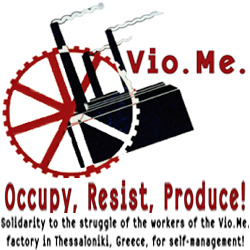 The interview with one of the workers of Vio.me is in Greek and live translated into English [thank you so much for all your efforts in showing us around and explaining everthing to us, we did not understand, we maybe see us again sooner as you think ;-), you are a real super star!!]
Thanks to the whole Vio.me workers collective, you really impressed us with your way of working and special thanks for sharing the personal stories with us.
Vio.Me: Self-Organization in Greece
from brandon jourdan on Vimeo.
Social Waste – Στη γιορτή της Ουτοπία
Video gedreht in der Fabrik bei Vio.me
Official Website: http://www.socialwaste.org, Facebook : https://www.fb.com/Social.Waste.Official, Twitter: http://www.twitter.com/infosocialwaste
FaSinPat (formerly known as Zanon)
Essay from Wildcat:#68